16-Year-Old Gabby Speaks About Life-Changing Scoliosis Surgery
When Gabby Bevill, an avid soccer player, was just 16 years old she started feeling intense pain in her lower back.
Noticing a bulge in the same area, she went to get it checked by her doctor. He attributed her pain and the bulge to a simple over worked muscle caused by physical activity. When Gabby received a secondary opinion, she found out she had a severe case of double scoliosis, with a curve and a twist, that had gone undiagnosed for 6 years.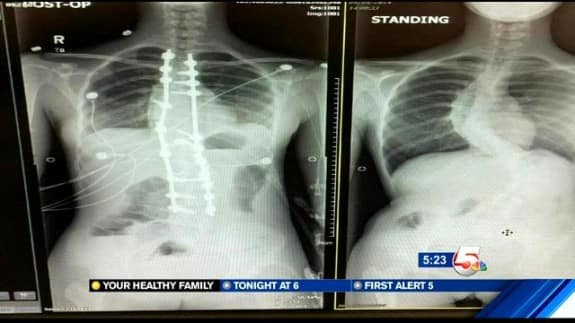 Trying to find a fix that did not mean surgery, Gabby and her parents tried everything from physical therapy to acupuncture. The unbearable pain would just not subside and she had to quit her athletic activities.
Gabby's grandmother, who watches The Doctors Show, saw Dr. Melamed performing scoliosis surgery using a technique they had not heard of before. That is when Gabby and her family knew they had to take a chance.
Dr. Melamed molded a rod to fit the original curve of Gabby's spine and inserted 22 screws. This un-twisted her spine and got it back to its natural shape.
Able to walk just three hours after her surgery, Gabby is now completely back to her normal activities. Her back pain is gone and she is able to sleep through the night peacefully. "It's just incredible how much my life has changed," she says. Thanks to Dr. Melamed's life changing surgery, Gabby is now fully recovered and has a brighter future.