Dr. Melamed is one of the country's leading scoliosis specialists. He can help you or your loved one overcome the difficulties associated with this condition.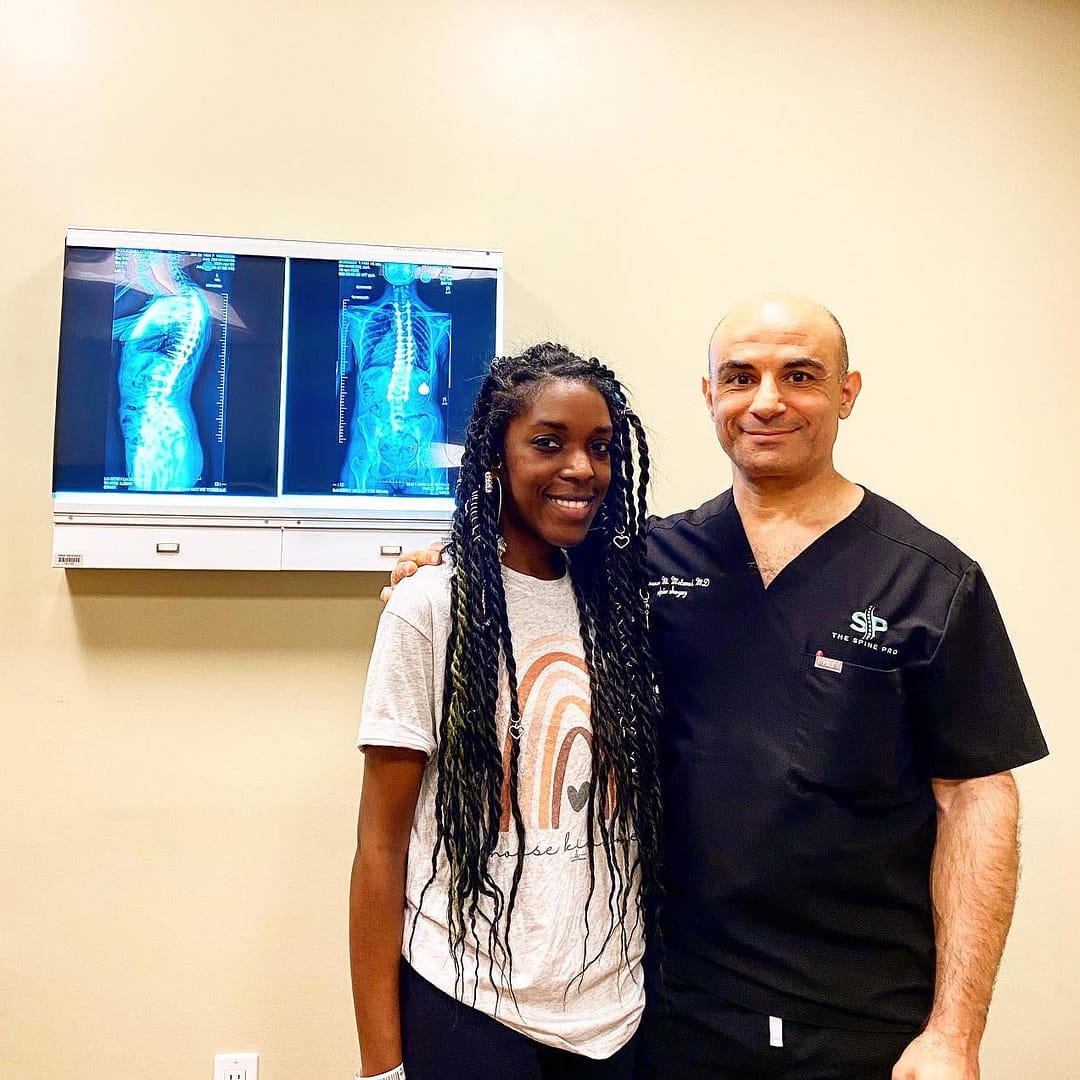 Please meet Adore.  She was diagnosed with scoliosis at a young age and while as a teenager she was offered to have a corrective operation.  However the patient and the family were quite scared and did not do the operation and unfortunately her curve continue progressing. Unfortunately the curve had now gotten 115° and she had no choice at this time. Very shortly after her 30th birthday she trusted me with the operation. This was an extremely stiff curve with no flexibility. And extremely difficult surgery and as expected we did lose neuro monitoring intraoperatively however with proper preoperative surgical planning and execution we were able to get the monitoring back and eventually finish the surgery. Here she is now six weeks from the surgery and in no pain and not taking a single pain medication and I will also add that she never took any narcotics after the surgery in her recovery.  She grew 4 inches!! A very special thanks also to the incredible team that help me make the surgery happen with such a spectacular outcome specifically Drs. Watson & Melikian as well as our superb neuromonitoring team, Joann one of the best x-ray techs in the country and Chris my regular scrub Tech and the rest of the incredible surgical techs and nurses as well as a postoperative nursing team at Cedars Marina Del Rey Hospital.
Please Meet Tony. This very unfortunate young man only in his early 40s had 3 to 4 prior disaster lower back surgery that left him crippled with neurologic weakness, bladder issues and wheelchair-bound. He ended up with a flat back deformity, scoliosis and pseudoarthrosis and severe stenosis as well. Even worse, instead of fixing him they put him on narcotics and increased his narcotics and he was offered another botched, useless surgery  I am absolutely beyond humbled that he found me and traveled all the way from Mississippi and allowed me to operate on him. The surgery took me about 15 1/2 hours to accomplish. He was ready to leave the hospital after three days standing on his own feet. As a precaution I kept him an extra night  Here he is six days after surgery on his own feet in my office and the very next day he flew back to Mississippi. I want to thank my wonderful patient Ms Gloria Gaynor and my surgery on her whose story inspired Tony and gave him the courage to come and allow me to do the surgery.
This 57-year-old patient was brought into my office by his wife. The patient was wheelchair-bound and was barely able to move his upper and lower extremities. Another spine surgeon had recommended multilevel anterior-posterior cervical fusion with instrumentation and ultimately told the patient that surgery is not going to fix his problem and told him to live with it.  That's very terrible advice and recommendations.  I immediately booked the patient for just cervical decompression with laminectomies. The patient is now three months old and now is walking with significant improvement in his upper and lower extremity function.
Meet Brad. He came to me referred from two other spine surgeons. He was suffering from severe spinal cord compression and spinal stenosis. He was also having significant neck and spinal deformity. This was causing him rapid progressive weakness and he was on the verge of becoming paralyzed rapidly. I had to do emergency surgery with a major reconstruction of his cervical spine. I'm happy to report that not only he's not paralyzed but he has made a very significant recovery after my emergency surgery and leaving an active lifestyle with his family.
More patient transformations performed by Dr. Hooman Melamed.