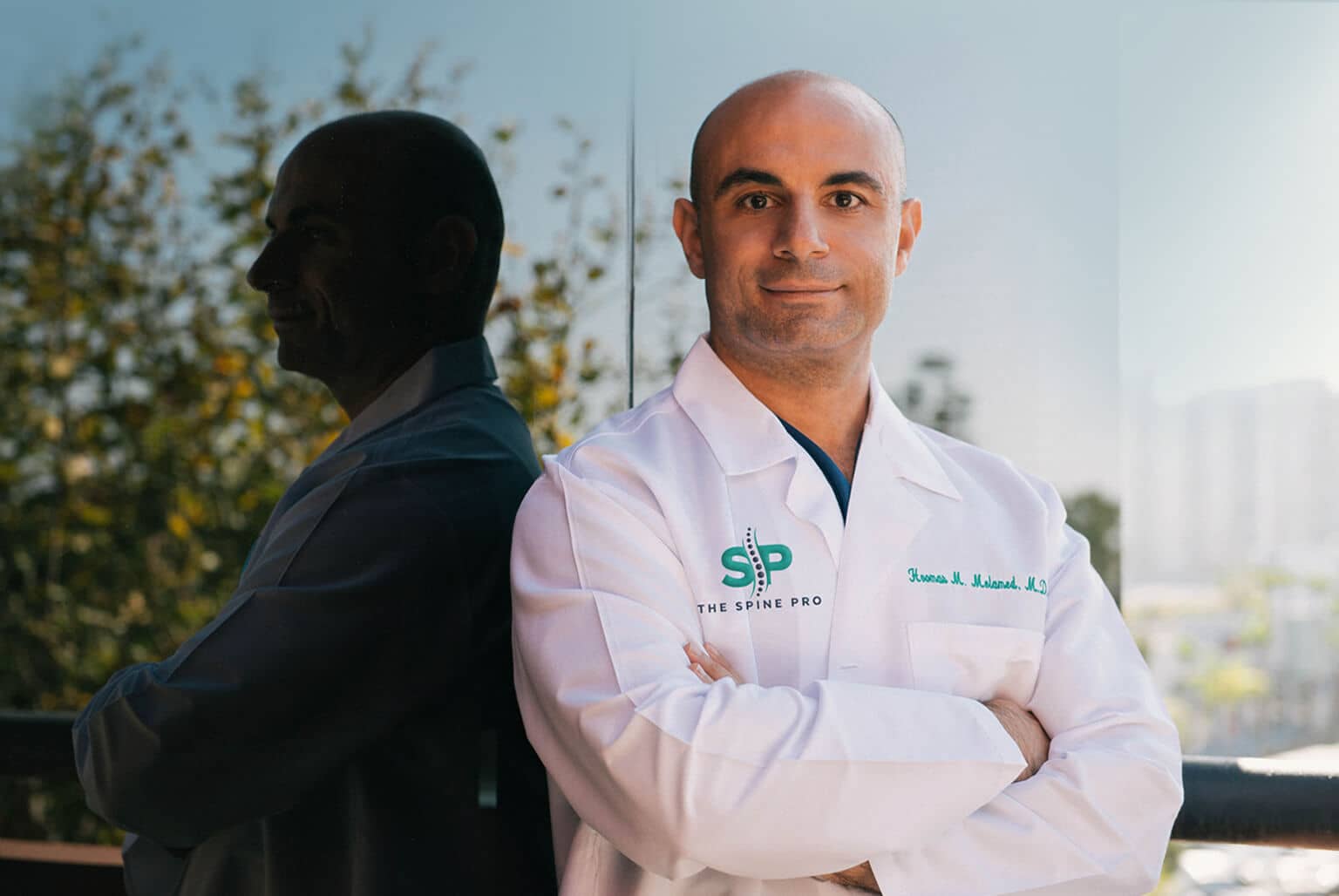 Founder of The Spine Pro since 2005, highly regarded and board-certified orthopedic spine surgeon Dr. Hooman M. Melamed has been named to the Super Doctor's list and Prestigious Castle Connolly "Top Doctor" multiple years in a row. In addition to his surgical skills, the L.A. resident has become the "go-to" expert on programs such as Dr. Oz, The Doctors, Fox News and local T.V.
Dr. Melamed specializes in minimally invasive endoscopic and microscopic spinal and scoliosis surgery and is on the vanguard of cutting-edge treatments involving nonsurgical cell therapy with PRP and bone marrow, artificial disc replacement, alternative treatment options for traditional fusion surgeries and more. He has also developed a unique patent-pending approach to treating patients without narcotics, and most surgeries are performed on an out-patient basis going home the same day. He served as Director of Scoliosis at Cedars Sinai Marina Del Rey Hospital from 2013 to 2021. He is also a fellow of the American Academy of Orthopaedic Surgeons and a member of the Scoliosis Research Society. He is the lead author on multiple published peer-reviewed papers. He has presented his research before the North American Spine Society, Congress for Neurological Surgeons, Scoliosis Research Society, Cervical Spine Research Society and International Meeting on Advanced Spine Techniques.
Dr. Hooman Melamed graduated Summa Cum Laude and Phi Beta Kappa from the University of California, Los Angeles with a B.S. in neuroscience. He later attended the University of Pittsburgh School of Medicine, receiving a scholarship from the prestigious Morris H. and Gertrude M. Harris Foundation. Dr. Melamed then completed his residency at the University of Illinois at Chicago, Department of Orthopedic Surgery while going on to receive numerous fellowships for his work. He did an additional year of spinal fellowship at Cedars Sinai Institute for Spinal Disorders getting more expertise surgical training in minimally invasive and spinal deformity surgery.  Since graduating in 2005, Dr. Melamed has continued expanding his skills and continuously learning and evolving as a doctor and surgeon by traveling to South America, Asia, and different states in United States observing other well known and respected spine surgeons and participating in surgery.
Dr. Melamed can treat a wide variety of different spinal ailments, depending on your diagnosis. These options include but are not limited to issues of the cervical, lumbar, and thoracic spine as well as scoliosis and other deformities. Before starting on a treatment plan, however, it is first of the utmost importance to perform an accurate and thorough diagnosis. To do so, you should schedule an appointment to determine if spinal surgery is the right option or if more conservative care is a better choice.  Dr. Melamed believes in treating the entire patient as a whole in a holistic manner and not just their spine. Most important is to consider other factors that may not allow a person to heal and get better.
Dr. Melamed believes in the importance of giving back to the community and other charitable organizations. He donates every month to support a range of childhood education and animal preservation charities. Some of these include the Wild Animal Sanctuary, Wildlife Conservation Society, African Wildlife Foundation, German Shepherd Rescue, LA cougar project, and KCIS (Keep Children In School).